In February of 2012, Nike released the Nike+ FuelBand-- a sleek, discreet wristband that tracks your everyday activities and awards you "NikeFuel points", a proprietary metric designed to consolidate different types of activities into a universal standard. With competitors such as FitBit already gone through several iterations of high-tech wearable pedometers, Nike needed to develop a device that worked well, and looked good.
The original FuelBand received mixed reviews, with many users complaining about reliability over time. Despite the hardware issues, Nike's FuelBand was a solid entry into the "Quantified Self" movement that seems to be increasing in popularity.
Fast forward a year and a half, and the second generation Nike+ FuelBand SE device is nearly available for public consumption. But, with only small improvements in tracking and an update to the Bluetooth 4.0 standard, Nike has missed a valuable opportunity to differentiate themselves in the expanding field of wearable electronics, and instead spent over a year creating a minor iteration of its existing device.
Wearable Computers
Wearable technology is becoming more popular, with terms such as "smartwatch" and "activity tracker" skyrocketing in popularity over the last two years.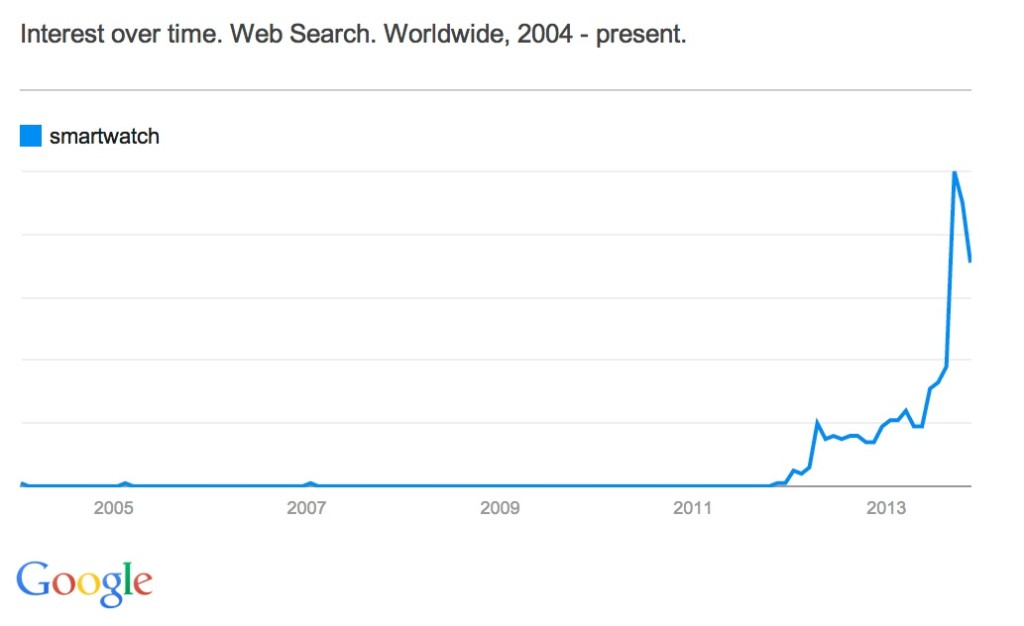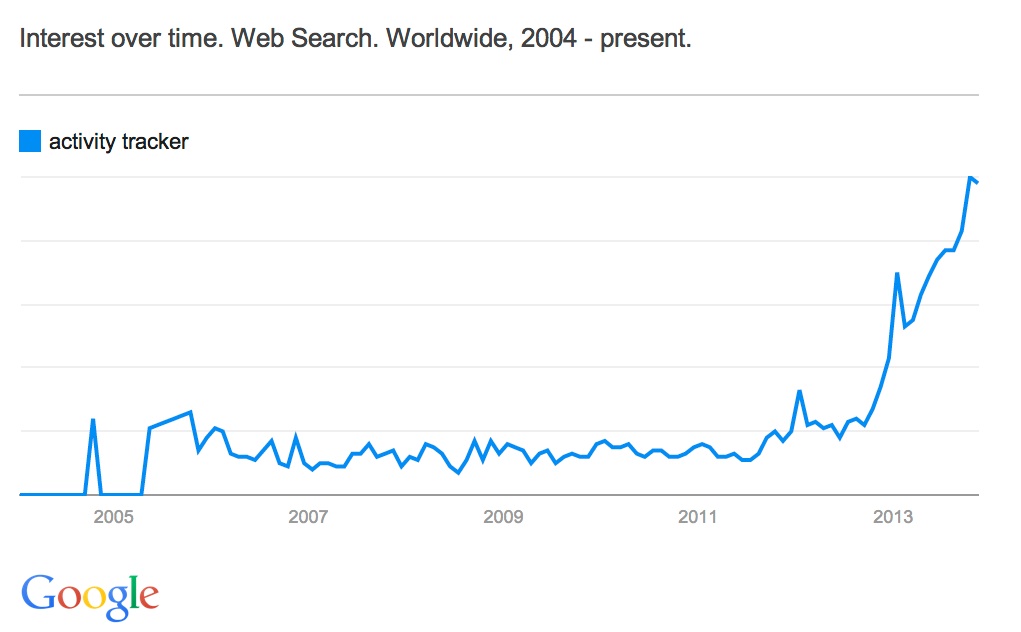 Companies such as FitBit, Jawbone, Motorola, and others have been producing new generations of bands, clips, and watch-like devices to track fitness and activities. Even outside of activity trackers, smart-watches are becoming less of a sci-fi, geek toy and instead are now practical and affordable thanks to companies such as Pebble, Metawatch, and Samsung.
While the entries currently on the market are still relatively young and reflective of their first generation nature, the important fact is that the general public is becoming aware of their availability. Samsung's recent push in advertising the Galaxy Gear portrays the device as one straight out of a science fiction movie, and is a notable example of the initiative to increase mass market appeal of these wearable devices.
Yet, some people aren't ready to consider a smart watch a socially acceptable accessory with their sometimes bulky form factor. While a wrist band or activity tracker clip is discreet, a Pebble or Galaxy Gear watch will often stick out like a sore thumb. I personally have a Pebble, being a Kickstarter backer, and often get comments on my watch for its unique looks-- even if others are unaware of its full capabilities. Because it doesn't strictly look like a traditional, round watch, it's difficult to hide, and while my geeky personality is complimented by a device such as the Pebble, others aren't quite as ready to put one on.
Hiding in Plain Sight
This is an area where Nike nailed the execution of the FuelBand-- it's design is stunning. You, or any passer-by, will barely notice the FuelBand's simplistic form. When off, the band has no visible lights or screen and has a single button on its face. It's one, seemingly continuous black band of matte material, but when the screen lights up out of the blank face the FuelBand looks futuristic, though not in a tacky way. If you're more inclined to make the FuelBand's presence known, the original had several other color options to choose from, including a clear plastic casing that reveals the inner electronics.
With the second generation, Nike does nothing to alter the overall look of the device, thankfully. Though the clear band is now retired, you have the option of several accent colors that line the inside of the wrist band. The effect is subtle, and the color only visible in the moments where you turn your wrist just the right way. The minimalistic design makes the suitable for anyone to wear all-day-- it's gender neutral, doesn't have a significant "geek factor," and yet is still functional.
Afraid of Change
Nike, at its core, is a fitness company. It produces athletic gear, from shoes to sports equipment, and sponsors a multitude of sports teams across different areas. In the realm of technology, Nike's reach is limited-- Apple has had a long history of Nike + iPod sensor integration, which is a small sensor that fits in the shoe and sends fitness data to an iPhone, iPod, or other Nike+ integrated device, but apart from the Nike+ sensor, their only other significant technology product is the Nike+ FuelBand.
These electronic devices and apps are designed to do what Nike knows best-- track fitness activities. There's nothing wrong with focus, but when you're a primary competitor in a fast-paced field such as wearable technology, your product has to be rock solid and innovative. Arguably, Nike is being outpaced in this area by other, smaller companies that are willing to accept some risk for the chance of differentiation.
A recent competitor I frequently refer to is the FitBit Force. Arguably, the Force is the product closest to the FuelBand-- it's a relatively sleek and discreet wristband that functions as a simple watch and includes wireless syncing over Bluetooth 4.0. One significant differentiator is the capabilities of the small screen on the Force-- not only can is display the time, but when paired with an iOS 7 phone or device, caller ID information is displayed. This small feature is one enjoyed by many smart-watch users, but is relatively new to those unwilling to wear one of the geekier devices.
Nike's FuelBand had the perfect opportunity to steal this functionality and improve on it with this recent iteration of the device. Not only would the FuelBand have the ability wrangle in the fitness gurus that enjoy the ability to track activity and sleep activity 24/7, but it would appeal to those individuals who'd like the convenience of glance-able information on their wrist, minus the bulk of a watch.
This same concept could have been expanded to other applications as well. Imagine a push notification API, similar to that of the Pebble watch, that allows your Withings scale to subtly remind you to record your weight at the end of the day, or allows Argus or another life tracker to suggest you drink a glass of water. After all, Nike already has a developer API that reads data from the FuelBand-- why not make it read and write capable?
Nike may have passed on these features due to battery life considerations or other technical reasons-- after all, I'm not a hardware engineer--but possibly, it's Nike's narrow focus on fitness that has prevented them from taking a risk. Like other behemoth companies such as Microsoft, direction is often hard to change due to corporate culture. But in this day and age, and especially the technology sector, quick change is paramount. This is something startups and smaller technology companies have figured out, but because wearable technology is not Nike's home field, they are struggling.
Competing with Your Own Product
On the software side, Nike partnered with Apple to create one of the first applications that made use of the M7 motion co-processor in the iPhone 5S. Announced at the iPhone event in September 2012, the Nike+ Move application is designed to keep track of your every day activities to award you fuel points. Sound familiar?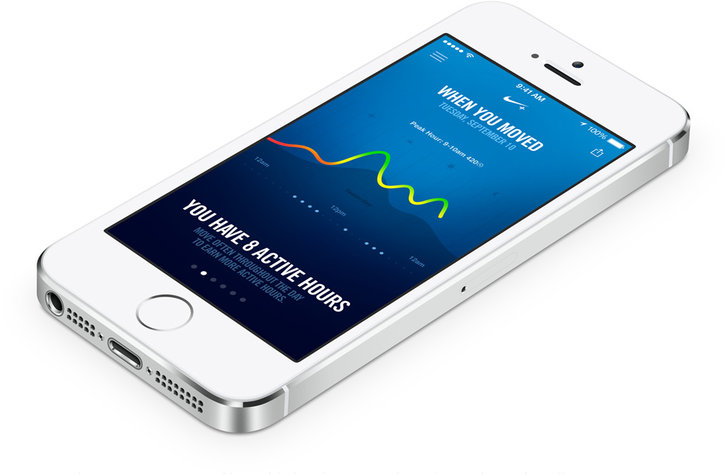 Like the FuelBand, the app keeps track of your daily lifestyle and activities to help you stay fit (though, it does not keep track of sleep patterns). Essentially, the Move app turns your iPhone into a FuelBand--for no additional monetary cost, at the expensive of requiring individuals to keep their smartphone on them. Surprisingly, the Move and FuelBand applications are completely separate. There seems to be no interaction between the two, other than keeping your FuelPoints in sync with your Nike account.
This is another case in which Nike could have innovated, but missed out-- accelerometer, motion, and location data could be cross referenced between the Move app and FuelBand hardware for more accurate tracking, or more simply, Nike could have integrated the Move functionality into the FuelBand app for convenience.
For the hard-core fitness buffs and individuals dedicated to quantifying their every movement, the FuelBand would be a fantastic sensor to have on your person. But for most people with an iPhone 5S, the Move app is more than enough. After all, most people have their phones on their person for the majority of the day. One potential gain with the FuelBand hardware is the ability to leave your bulky phone at home when on a run, but when faced with a decision to purchase a $150 fitness tracker or a $10 arm band, many people are going to choose to save the cash.
Going Forward
Nike needs to step it up over the next several months with software updates, or through the next year with a new hardware. They needs a killer feature to differentiate themselves from the increasing competition-- hey may have the brand power, but it's not difficult to fade into the background and fall behind others like FitBit and Withings. Symbian, Windows Mobile, and Blackberry have all faded into obscurity in the past ten years with Android and iOS skyrocketing, and the same could happen to Nike in the activity monitor and wearable technology space if they don't pick up the pace and surprise everyone with innovation.